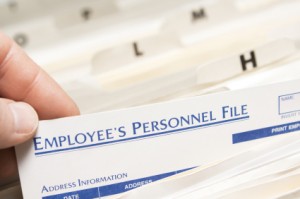 All current and former employees have the right to inspect and copy their employment file. Every employment attorney knows this fact. But what exactly are your rights? What are you entitled too? Can your company refuse?
California Labor Code section 1198.5(a) states:
Every current and former employee, or his or her representative, has the right to inspect and receive a copy of the personnel records that the employer maintains relating to the employee's performance or to any grievance concerning the employee.
Generally, an employer must comply with your request within 30 days. If they fail to do so you should contact an experienced employment lawyer.
What must the employer give the employee?
According to Labor Code section 432 and the Department of Fair Employment & Housing (DFEH) employers are required to give an employee or job applicant, upon request, a copy of any instrument that the employee or applicant has signed relating to the obtaining or holding of employment.
Moreover, files that are generally considered to be "personnel records" are those that are used to determine an employee's qualifications for promotion, pay raises, or disciplinary action, including termination. The DFEH has some examples of "personnel records" it believes should be disclosed:
Application for employment
Payroll authorization form
Notices of commendation, warning, discipline, and/or termination
Notices of layoff, leave of absence, and vacation
Notices of wage attachment or garnishment
Education and training notices and records
Performance appraisals/reviews
Attendance records
What happens if my employer refused to disclose my file?
An employer who violates, refuses, or neglects to comply with an employee's right of inspection is guilty of a misdemeanor. Labor Code Section 1199(c). Despite this law, it is rare than an employer will go to jail for this. However, you may try to get penalties via section 1198.5(k), which states:
If an employer fails to permit a current or former employee, or his or her representative, to inspect or copy personnel records within the times specified in this section…the current or former employee…may recover a penalty of seven hundred fifty dollars ($750) from the employer.
Employment Attorney – What about my payroll records?
According to Labor Code section 226(b), employers are required to permit current and former employees to inspect or copy payroll records pertaining to that current or former employee. An employer who receives a written or oral request from a current or former employee for his or her payroll records shall comply with the request within 21 calendar days.
________________________
Branigan Robertson is a California employment lawyer who exclusively represents employees in workplace disputes. He focuses his practice on sexual harassment, wage & hour, wrongful termination, and retaliation. Visit his website at BRobertsonLaw.com or call his office at 949.667.3025.