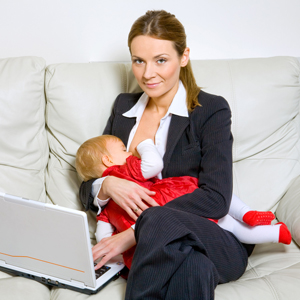 My wife is 5 days overdue with our first child. Once the baby is out my wife wants to breastfeed our daughter. Although my wife no longer works, I couldn't help but wonder, what are a new mom's rights in the workplace? Can you breastfeed on the job? What if your boss doesn't let you? Can you use a breast pump at work? Does your boss have to provide you with a private room, or do you have to do it in a bathroom stall?
In 1998, California's legislature resolved to improve the life of Mom's in the workplace. It passed a series of statutes, including California Labor Code § 1030-1033. The most important is § 1030:
Every employer…shall provide a reasonable amount of break time to accommodate an employee desiring to express breast milk for the employee's infant child. The break time shall, if possible, run concurrently with any break time already provided to the employee. Break time for an employee that does not run concurrently with the rest time authorized for the employee…shall be unpaid.