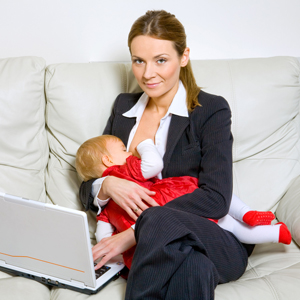 My wife is 5 days overdue with our first child. Once the baby is out my wife wants to breastfeed our daughter. Although my wife no longer works, I couldn't help but wonder, what are a new mom's rights in the workplace? Can you breastfeed on the job? What if your boss doesn't let you? Can you use a breast pump at work? Does your boss have to provide you with a private room, or do you have to do it in a bathroom stall?
In 1998, California's legislature resolved to improve the life of Mom's in the workplace. It passed a series of statutes, including California Labor Code § 1030-1033. The most important is § 1030:
Every employer…shall provide a reasonable amount of break time to accommodate an employee desiring to express breast milk for the employee's infant child. The break time shall, if possible, run concurrently with any break time already provided to the employee. Break time for an employee that does not run concurrently with the rest time authorized for the employee…shall be unpaid.
An employer is not required to provide additional break time if to do so would seriously disrupt the operations of the employer. Obviously, the meaning of "seriously disrupt" is critical. If your boss tells you that you can't have any additional break time because it would seriously disrupt his business, what recourse do you have?
Your best bet is to immediately contact an employment lawyer. That attorney can evaluate the situation at hand. Moreover, "lawyering up" is often the best way to get your employer to relent and let you breastfeed. Employers generally don't want to get sued over 15 minutes of break time that they don't have to pay for.
California law also demands that an employer shall make reasonable efforts to provide the employee with the use of a room or other location, other than a toilet stall, near the employee's work area, for the employee to pump milk in private.
An employer who violates any of the laws above shall be subject to a civil penalty in the amount of one hundred dollars ($100) for each violation. That may not sound like a lot, and is definitely not worth suing over. But if you aggregate an entire years worth, say two violations a day, that is about $52,000. That is definitely worth suing over.
________________________
Branigan Robertson is a California employment lawyer who exclusively represents employees in workplace disputes. He focuses his practice on sexual harassment, wage & hour, wrongful termination, and retaliation. Visit his website at BRobertsonLaw.com or call his office at 949.667.3025.