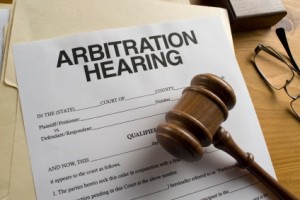 Earlier this month, the California Court of Appeal denied mega law firm Bingham McCutchen's attempt to have a wrongful termination lawsuit (filed against them by a former associate, Hartwell Harris) thrown out of court and into binding arbitration. (Click here read the court's decision).
All all three justices in Division Five of California's Second Appellate District unanimously agreed that Bingham's arbitration agreement (which forces all of its employees to arbitrate their claims against the company rather than file lawsuits in court) was invalid under Massachusetts law, which was also Bingham's own choice in drafting their agreements.
Law Firm Fails to Enforce its Own Arbitration Clause
Ms. Harris worked for Bingham in their Santa Monica, CA office as a litigation associate from May 2007 until February 2011 when she was fired after developing a rare sleep disorder called Delayed Sleep-Phase Syndrome. She later filed a lawsuit against Bingham in November 2011, claiming that, despite her positive reviews, Bingham terminated her once they learned of her disability and need for accommodation while she returned to a normal sleep cycle.
After the lawsuit was filed in Los Angeles Superior Court, Bingham moved to compel the case to binding arbitration, citing the arbitration clause in Harris' employment contract.  Presiding Judge Mel Red Recana, however, agreed with Harris's attorney, Tamara S. Freeze, and denied Bingham's arbitration petition on the grounds that the provision was not enforceable under Massachusetts law, which Bingham had decided would control the contract.
Bingham then appealed the trial court's decision, however, the California Court of Appeal affirmed the lower court's denial in a strong 3-0 decision – both ordering their opinion to be published in the appellate records and ordering Bingham to pay Harris her costs on appeal.
Attorney Reaction
Regarding the appeal, the Law Offices of Tamara S. Freeze has stated on their blog:
"Ironically, Bingham McCutchen knew their arbitration agreement, as originally drafted, was invalid in light of a 2009 Massachusetts Supreme Court opinion: Warfield v. Beth Israel Deaconess Medical Center, Inc. but apparently forgot to update it. Indeed, Bingham's own attorneys published a press release on their website warning their clients about this new law and how it would affect arbitration agreements . . . a warning that Bingham apparently failed to heed itself. For obvious reasons, the publication has since disappeared from Bingham's website (but we still have a copy HERE)."
Hartwell Harris was represented by Tamara Freeze, Robert Odell, Allison Lin and law clerk Harrison Brown.