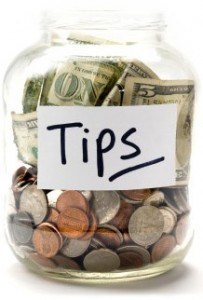 California law protects hundreds of thousands of people who work as waiters, waitresses, servers, bartenders, etc. The law protects these employees from having to share their tips with the owners or managers of the company they work for. However, employers are allowed to implement certain types of mandatory tip sharing arrangements (most call this "tip pooling"), but these arrangements must conform to the law.
So what is the law? The California Labor Code states:
Section 351.  No employer or agent shall collect, take, or receive any gratuity or a part thereof that is paid, given to, or left for an employee by a patron, or deduct any amount from wages due an employee on account of a gratuity, or require an employee to credit the amount, or any part thereof, of a gratuity against and as a part of the wages due the employee from the employer. Every gratuity is hereby declared to be the sole property of the employee or employees to whom it was paid, given, or left for….

Section 353.  Every employer shall keep accurate records of all gratuities received by him, whether received directly from the employee or indirectly by means of deductions from the wages of the employee or otherwise. Such records shall be open to inspection at all reasonable hours by the [government].