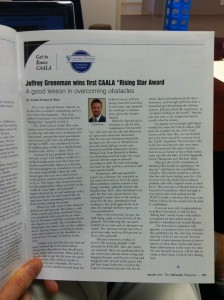 Jeff Greenman, a personal injury attorney in Newport Beach and good friend of mine, was recently awarded the Consumer Attorneys Association of Los Angeles' (CAALA) inaugural "Rising Star" award. In his short career he has obtained some amazing results. This past year he won a million dollar medical malpractice verdict.
"The jury returned a verdict of $1,017,500, beating plaintiff's 998 demand for $750,000. After the verdict was returned, there was pandemonium in the courtroom with the client crying and hugging the jury, and the jury crying and hugging back."
This is an important award. It recognizes young talent and gives it a boost. But this verdict isn't Mr. Greenman's best. He's obtained a $17 million dollar settlement, $12 million dollar settlement/verdict, and a $5 million dollar settlement (just to name a few) for his clients. It goes without saying that Mr. Greenman has started his career winning big.
Check out Mr. Greenman's website at Greenman Law PC. Mr. Greenman graduated from Chapman University School of Law and has been practicing law for six years.
________________________
Branigan Robertson is a California employment lawyer who exclusively represents employees in workplace disputes. He focuses his practice on sexual harassment, wage & hour, wrongful termination, and retaliation. Visit his website at BRobertsonLaw.com or call his office at 949.667.3025.