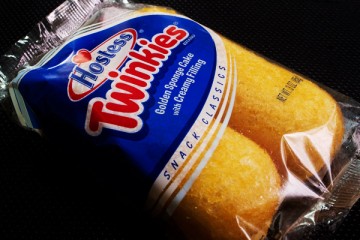 I'm not ashamed to admit that I ate a Twinkie the other day. It was my first Twinkie in about three years. It melted in my mouth and tickled warm memories of my childhood. I enjoyed it immensely. I told myself that I need to eat more of those delicious yellow cream-filled cakes, but sadly that soon might not be possible.
The maker of Twinkies, Hostess Brands, is bankrupt. Hostess owes more than a billion dollars to creditors. The bakers' union pension fund was the biggest creditor, owed $994 million. Usually, bankruptcy isn't a big deal for consumers such as myself, because companies continue to make and sell their products through the bankruptcy proceedings. Usually the company emerges from bankruptcy a more financially sound enterprise because the court discharges debt and other unsavory financial obligations. Well, Hostess Brands is asking the bankruptcy court in White Plains, N.Y. to tear up its labor agreements, which would allow Hostess to change how it funds union pensions. If it continues to fund them as it has been the company will run out of money.
As you can imagine, the Unions want nothing to do with it.  The International Brotherhood of Teamsters together with the Bakery, Confectionery, Tobacco Workers, represent more than three-quarters of the 18,500 workers at the company. According to a recent CNN article:
The Teamsters have vowed to strike if the judge agrees with management's request and dumps the labor deals. But both management and the unions agree that the company is unlikely to survive a strike.

"We would no longer have cash to keep operating," said Hostess management in a letter sent to employees on Monday. "All Hostess Brands operations would shut down and liquidation would begin. The 18,500 jobs, plus the health insurance that comes with them, would be lost for good."
I certainly hope these two parties can figure out a deal. This is a traditional battle between management and employees. This one hits home because if these two parties go to war, it looks like the ultimate loser is going to be all of us.  Stay tuned for more information.
________________________
Branigan Robertson is a California employment lawyer who exclusively represents employees in workplace disputes. He focuses his practice on sexual harassment, wage & hour, wrongful termination, and retaliation. Visit his website at BRobertsonLaw.com or call his office at 949.667.3025.