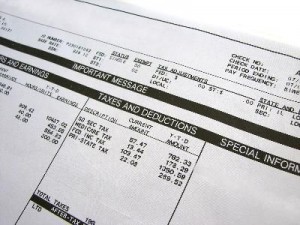 What's the deal with paystubs? Most employees don't even look at their paystubs. Existing law in California requires every employer, twice a month or at the time of each payment of wages, to furnish each employee an accurate itemized statement (paystub) in writing showing certain information.
This information includes, among other things, the name of the employee and the last 4 digits of his or her social security number, the gross wages earned, all deductions, net wages earned, the dates of the period for which the employee is paid, and the name and address of the employer. Existing law provides that an employee suffering injury as a result of a knowing and intentional failure by an employer to comply with this requirement is entitled to recover the greater of all actual damages or a specified sum, not exceeding an aggregate penalty of $4,000, and is entitled to an award of costs and reasonable attorney's fees.
The "injury" required to trigger the penalty has just changed. California just amended its paystub statute (Labor Code § 226) with a new law (SB-1255 which Governor Brown signed into law on September 30th, 2012). The changes go into effect on January 1, 2013.