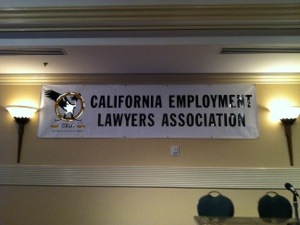 Hey All, today I'm blogging while at the California Employment Lawyers Association Annual Conference in Costa Mesa. It's been good to see friends and interact with colleagues. But I can't wait to update this blog with all the good stuff I've been learning. From legislative updates to new strategies in wrongful termination cases, this conference is packed with great information coming from the most established employment attorneys in California.
________________________
Branigan Robertson is a California employment lawyer who exclusively represents employees in workplace disputes. He focuses his practice on sexual harassment, wage & hour, wrongful termination, and retaliation. Visit his website at BRobertsonLaw.com or call his office at 949.667.3025.