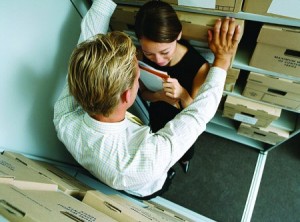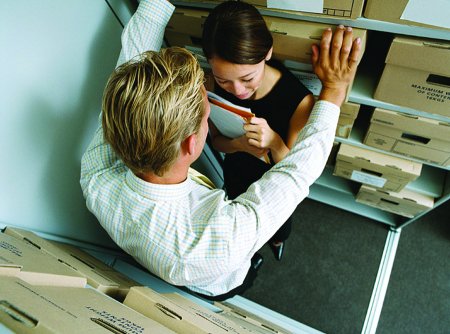 Here is the common story: John, a male supervisor, and Jane, a female employee, work closely together. They are friends, and have a fun working relationship. They regularly get chummy with each other and enjoy telling each other jokes. But one day, John asks about her sex life, or slaps her on the butt, or tells her that she has a great body. Since their relationship is good, Jane laughs it off and dismisses it.
The next day John throws another sexual comment her way, or lets his eyes drift to her breasts, or tells her that if he were single, he'd be asking her out for a drink. Again, Jane dismisses it as friendly banter.
But the next day, it continues. This time John sits on her desk and tells a sex joke or gets a little too close when nobody else is around. She smiles and is polite, but it's starting to concern her. Worried she would ruin the relationship, Jane says nothing. After all, it's not a big deal…. Women deal with this sort of behavior all day every day…right?
But the following week it continues, and the week after that. Before Jane even notices weeks turn into months. Eventually, she gets fed up and she tells HR. But when she sits down with HR, she has trouble articulating what John is doing. But she gets the message across and HR says they are going to deal with it. But they don't. You see, John is a valuable asset to the company, and Jane isn't as valuable. The company doesn't want to lose John–he makes them a lot of money.
Then one day, John goes too far. He corners her, kisses her, or grabs her, or does something even worse. Jane rejects his advances, and the lust in his eyes turns to anger. Understandably, Jane starts avoiding John. There is an awkward rift between them. But John is her boss, and her job performance begins to suffer.
A week or two later, Jane gets a poor performance review, or she gets passed over for a promotion, or she gets demoted. Then, a month or two later, she gets fired.
This story repeats itself all across California. This is a typical "hostile work environment" sexual harassment case. Here, the harassment was bad, but it often is much worse. What can Jane to do? Should she just suck it up and find a new job? What if that was her dream job? What if she can't find a new job? What if she needs to feed her children?
In California, sexual harassment (legally speaking) can take one of two forms: "quid-pro-quo" or "hostile work environment." Here, I cover what a "hostile work environment" looks like and what you can do to stop it. I will cover the other type, 'quid-pro quo,' in a future post.
Keep reading after the jump….
The Legal Theory of Hostile Work Environment
The most common form of sexual harassment is 'hostile work environment.' In a nutshell, these cases may involve various forms of verbal and physical conduct, of both a sexual or nonsexual nature, which have the purpose or effect of creating a hostile or offensive working environment. Supervisors, co-workers, subordinates be the harasser that gives rise to hostile work environment.
To win such a case, the employee must prove that she was subjected to unwelcome sexual advances, conduct, or comments; and the harassment was "so severe or pervasive" as to "alter the conditions of the victim's employment and create an abusive working environment." What kind of conduct can be harassment? It is limitless, it includes groping, gestures, grabbing, intimidation, taunts, ridicule, comments, etc.
In addition, to hold the employer liable for a supervisor's or coworker's hostile environment, the employee must show the employer knew or should have known the harassment was occurring and failed to take action. Thus, it is important that you tell HR or a superior that you believe that you are being sexually harassed. Of course, the individual harasser can still be held personally liable even if the employer didn't know or it was shown the employer had no reason to know of the harassment.
What is "severe & pervasive" enough to create a hostile work environment?
The question becomes when does an annoying or uncomfortable work environment turn into a sexual harassing hostile environment? This is determined by looking at all the facts surrounding the harassment. A court will look at:
the frequency of the harassing conduct;
its severity;
whether it is physically threatening or humiliating, or merely an offensive statement or gesture;
whether it interferes with the employee's work performance.
Both females and males can sue under this theory. Moreover, a sexual harassment claim may be based upon a sexually-charged atmosphere created by supervisors or coworkers of the same gender as the plaintiff employee. Thus, the harassment can made by a male superior to a male subordinate, or a female superior to a female subordinate.
What Can You Do To Stop the Harassment?
You have a few options – but before I discuss any of them, I highly recommend you speak with an experienced employment attorney to explore these options. Most employment attorneys will speak with you with you about your case for free (as long as you don't abuse their time). Your attorney can answer any questions that you may have (and I promise you will have lots).
You can:
File a complaint with the Department of Fair Employment & Housing (DFEH) – You will go to the DFEH website and create an account and fill out a complaint form. The DFEH is a California Government entity that will investigate the matter and pursue it for you. The complaint process is simple and easy. This is a good option for some, however the investigation can take a long time (after all, we are dealing with the government). Take note that a complaint must be brought to the DFEH within one year from the date of the last incident of harassment.
File a complaint with the Equal Employment Opportunity Commission (EEOC). The EEOC is a federal department that investigates the matter on your behalf. As with the DFEH, this is a good option for some, but it takes forever. Take note: under Title VII, the victim has 180 days from the incident to file a charge with the EEOC.
Get a lawyer. Your lawyer can try to resolve the matter without going to court; or, if that doesn't work, you can file a lawsuit. This is (in my opinion) the best option because it gives you more control, flexibility, and the potential for a better reward. No offense to the DFEH or EEOC, but there is simply no comparison to having an effective and passionate attorney on your side. But don't delay, if you sit on your harassment claim for too long the statute of limitations may run and you may be out of luck.
Hopefully, you never get sexually harassed. But my guess is, that if your reading this, you already have been. In that case, I hope this helps your situation.
________________________
Branigan Robertson is a California employment lawyer who exclusively represents employees in workplace disputes. He focuses his practice on sexual harassment, wage & hour, wrongful termination, and retaliation. Visit his website at BRobertsonLaw.com or call his office at 949.667.3025.