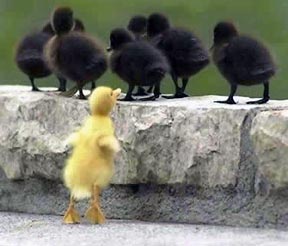 Were you fired because you're ugly? Did your boss hire a beautiful replacement? Shouldn't you be able to sue for that?  The NYT makes the case:
[W]hy not offer legal protections to the ugly, as we do with racial, ethnic and religious minorities, women and handicapped individuals?
The article has an interesting take on why 'ugly' people should be protected from discrimination in the workplace. It addresses the major problem, "what is ugly?", in sheepish way.
For purposes of administering a law, we surely could agree on who is truly ugly, perhaps the worst-looking 1 or 2 percent of the population. The difficulties in classification are little greater than those faced in deciding who qualifies for protection on grounds of disabilities that limit the activities of daily life, as shown by conflicting decisions in numerous legal cases involving obesity.
Um. I'm pretty sure it would be harder than that. Beauty is extremely subjective. Not only that but picture the court proceedings. "Ladies and Gentlemen of the jury, my client is ugly.  Just look at her. She is simply not attractive. I'm here to prove that, not only is she terribly ugly, but her boss decided to fire her because of her looks, and proceeded to hire a attractive replacement. Please award my client $1,000,000."
The absurdity is obvious.
________________________
Branigan Robertson is a California employment lawyer who exclusively represents employees in workplace disputes. He focuses his practice on sexual harassment, wage & hour, wrongful termination, and retaliation. Visit his website at BRobertsonLaw.com or call his office at 949.667.3025.