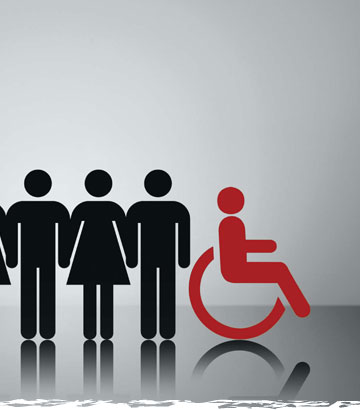 Discrimination is subtle. It's never goes like: "We're terminating your position because you can't walk/have diabetes/have cancer/can't hear…." No, no, no. Even stupid bosses usually aren't that stupid.
It usually goes like this: "We're letting you go." That's it.  Smart employers don't give you a reason, they just fire. But it gets interesting when someone gets fired two months after being diagnosed with cancer, or after breaking major bones on their hand, after telling their boss that they're depressed, get a serious back injury, or after major surgery.
The law in California prohibits disability discrimination. But what happens when you are fired, demoted, or refused a promotion for reasons seemingly unrelated to your disability? Do you just suck it up and try to find a new job? Well, yes, you should try to find a new job; but no, you shouldn't put your tail between your legs and let your boss do that, especially if you suspect you were fired because of your disability.
It is against the law to fire someone because of their disability if there is a way to reasonably accommodate that disability. Not only that, but California law also says that its against the law to fire an employee who is erroneously or mistakenly believed to have a physical or mental condition that limits a major life activity. CA.Gov.Code. § 12926.1(d)(3).

Therefore, if you suspect you have been fired because of your disability, but can't prove it, you should talk to you're favorite lawyer. Good lawyers have tools and methods at their disposal to sniff out illegal discrimination. They can depose your boss, question your former colleagues, evaluate your employment evaluations, and use all sorts of other discovery mechanisms to find if discrimination occurred.
If your attorney finds that discrimination did occur, or believes he or she can prove it in court, then you have a lawsuit on your hands. Disability discrimination is NO JOKE.  Here are a few recent verdicts in disability discrimination cases:
Snider v. Laquer Urban Clifford & Hodge LLP ($1.1. million verdict for law firm associate terminated after he requested accommodation for his liver-related disability)
Wiley v. Wyndham Vacation ($1.0 million verdict for a 60-year-old male former vacation timeshare sales manager who was terminated after a six month medical leave)
Ismen v. Beverly Hospital ($1.2 million verdict for firing of employee after work restrictions were placed upon him by his doctor)
Long story short, if you've been terminated or demoted or refused a promotion because of your disability, talk to a good employment attorney.
________________________
Branigan Robertson is a California employment lawyer who exclusively represents employees in workplace disputes. He focuses his practice on sexual harassment, wage & hour, wrongful termination, and retaliation. Visit his website at BRobertsonLaw.com or call his office at 949.667.3025.